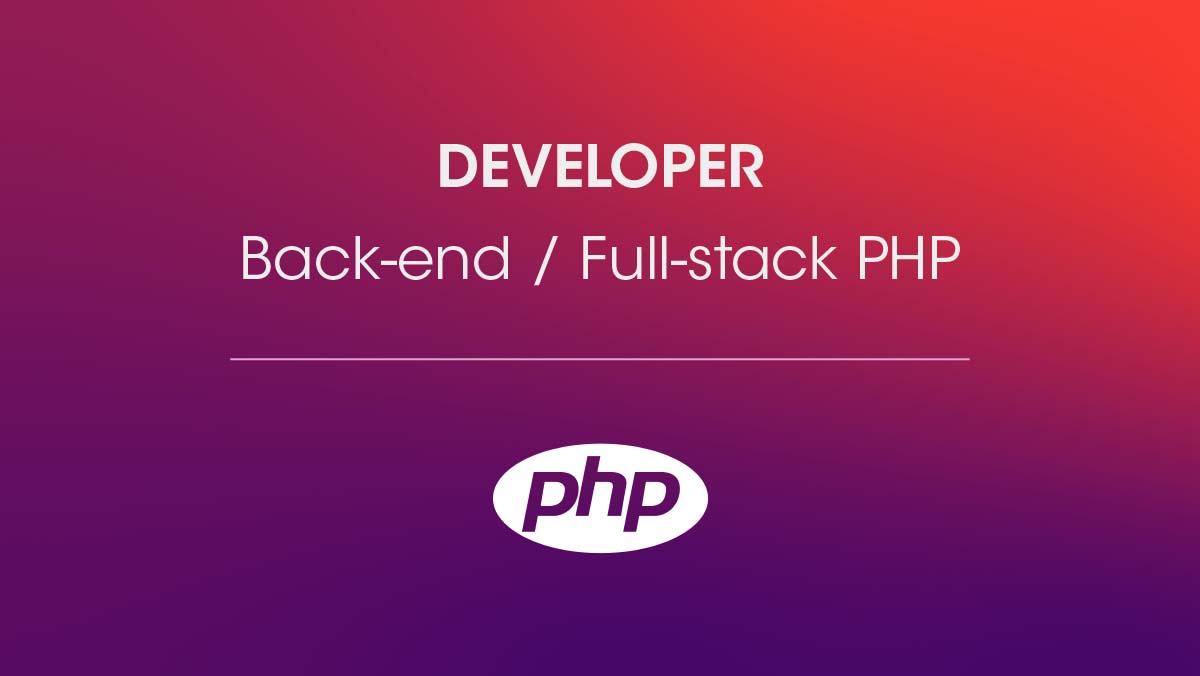 Back-end/full-stack PHP Developer
Looking for a job that could allow you to use your skills and develop innovative technological solutions? Look no further; Thepointofsales.com needs you!
Our Technological Infrastructure (Tech Stack)
On the server side, we have developed our own framework based on the Docs as Code notion over the years. Each component is defined according to the OpenAPI (V3) specification, and the code uses data models (Object Schema) to validate and operate the components and our API. In other words, the simple act of modifying the documentation is updating the functioning of the code. The languages used are PHP and Node.js. On the client side, we develop everything with the Vue.js framework.
We use relational databases (MY SQL), key-value (Redis), and document-oriented (Elasticsearch), depending on our needs. We also have a slight weakness for the Websocket protocol.
Job Description:
While collaborating with your team members under the responsibility of the Technology Department Manager, you will be led to fine-tune our tools already in place and develop new ones to meet the ever-changing needs of the event industry. You will have to create and optimize the code, maintain it, fix bugs, and perform problem-solving. You will be requested to produce numerous analyses that will lead you to be curious and do multiple types of research, reflections, reconsiderations, and optimizations, besides ensuring the business' data security.
The principal project the team is actually working on is the complete redesign of our console used by more than 8,000 event organizers, so every possible action via the interface can also be accessed via our API.
This position is full-time. You will have the choice to work from home, have your own workspace besides your talented colleagues, or even alternate between the two, as you wish. Our offices are located in the St-Roch neighbourhood in Québec City and the Rosemont neighbourhood in Montreal, close to restaurants, grocery stores, local shops, parks and mass transit. Living elsewhere in the Quebec province? No worries, there is still a place for you on our team!
About the Company:
Founded in 2010 in Quebec City, Thepointofsales.com is a user-friendly ticketing and registration management system meeting the highest industry standards. Over the past few years, despite the pandemic, the high-growth company stood out in the digital media universe by developing various tools that contributed to the survival of Quebec's event field, like a streaming platform with an integrated chat system, donation system, virtual ballot papers, and many more!
Open to ideas from each employee, the business is constantly evolving and committed to its team's well-being. To work at Thepointofsale.com, it's contributing to the innovation and technology boom of the entertainment industry with passionate colleagues who are of pleasant company.
For further information: https://lepointdevente.com/organizers/about
Skills & Abilities:
A great attention to detail and a well-developed sense of aesthetics are required to develop attractive, complete, easy-to-use and bug-free tools.
A capacity to work in teams is essential for efficient and joyful collaboration between colleagues
A spirit of initiative focused on solutions, and some proactivity is strongly encouraged.
Bilingualism (French and English) is required for an optimal understanding of our client's needs, located nationwide and worldwide.
Job Requirements:
Education level: college diploma and/or university degree, or autodidact with pertinent experience
Years of experience required: 4
Master the PHP and/or Nodes.js languages and the MySQL databases
Understanding of the OpenAPI specification
Knowledge of the AWS environment
Assets that will make a difference:
Knowledge of the WebSocket protocol
Knowledge of Graph and/or Elasticsearch databases
Knowledge of GraphQL language
Knowledge of REACT Native
Knowledge of DynamoDB
Benefits:
Flexible schedule
Generous vacation policies
Unpaid leave possible at any time, as needed
Work-family balance
Custom-made social benefits program
Telehealth services
Employee assistance
RRSP program
Telework allocation
Cell Phone Plan
Training allowance
Free event tickets from partners
Social Club
Canine Fridays
Salary:
We have a salary range in place and offer a concurrent salary according to your qualifications and professional experiences.
N.B. Please note that only the selected candidates will be contacted.